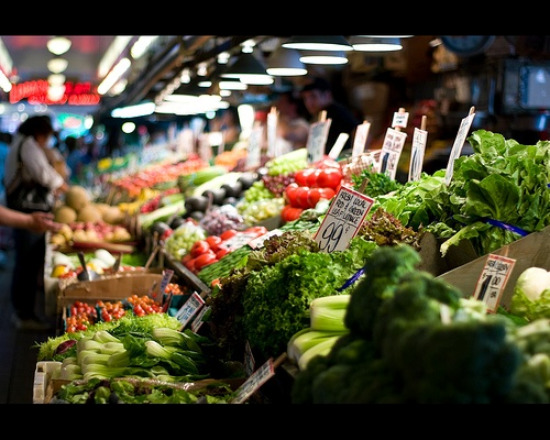 (Photo Source)
Since we were out of town in Michigan for the weekend, we've had no time to grocery shop. So, it is not surprising that our fridge and cupboards are bare. I don't mind when our grocery supply dwindles but it drives Scott crazy. As a result of having very little food selection for lunch, I opted to stop at the grocery store this morning to pick up a can of soup and a few other things for the day. As a rule, I try to avoid eating soup from a can because canned soup is typically loaded with sodium and is definitely processed in some way – no matter what the label says. But in my world, having a can of soup is slightly better than having a frozen dinner (can't even remember the last time I had one) and cheaper than going out to eat.
To off-set my sodium-filled lunch, I also bought a banana and a HUGE orange to snack on throughout the day. I loved the feeling of knowing that I was buying fresh, whole fruit from the market rather than going out to eat. This practice of stopping at the market on your way to work or even on your lunch break is a way of life for many in Europe, but is not as ingrained in American culture. Think about it, when was the last time you just stopped at the market or bakery to pick up a loaf of bread for your lunch or fresh fruit for your afternoon snack? When given a choice, I assume most Americans would choose to eat at a restaurant for lunch rather than stop at the store to pick up a little something.
If you needed to grab lunch at work, what would you do – go out to eat or stop at the market to pick up real, fresh food?