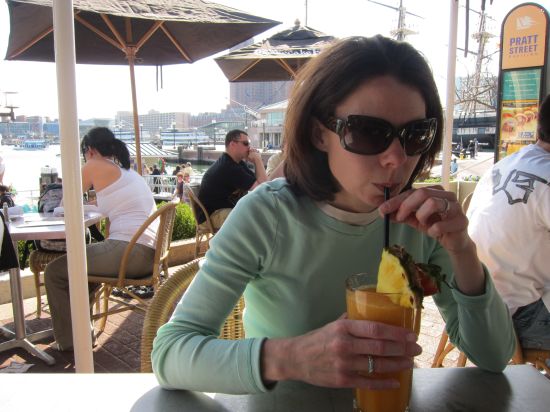 Hello All! It has only been one day since the Healthy Living Summit and I am already having signs of withdrawal! Why can't people at work take pictures of their food too?
So what does a blogger do when she has the post-blogging conference blues? She signs up for another conference! And that's exactly what I did! I am officially attending FitBloggin 2011 in Baltimore in May and can't wait!
I'm so excited that FitBloggin 2011 will be in May next year! Last year it was in March, but luckily, Baltimore was experiencing freakishly warm weather – 75-80 degrees the whole weekend! I'm so hoping for a weather repeat next year. I am especially looking forward to staying at the hotel – it's in an awesome location right by the harbor. Plus, the location is a prime spot for running and site-seeing at the same time.
As you may remember from FitBloggin 2010, Scott and I had a little too much fun taking in the sites and exploring all of the food options Baltimore has to offer. As you can see from the Fitbloggin 2010 photo above, I was not shy about having my mango smoothie and drinking it too! See my previous post about the FitBloggin conference for a recap. And remember to follow @Fitbloggin on Twitter for more deets.
So, anyone else going to Fitbloggin 2011 and want to meet up?