Ok, I'm officially sick. Headache. Body aches. Chills. I was so cold this evening, in fact, that it felt so much better outside on our deck in 85 degree weather than it did in our air conditioned house. I also sat wrapped in a blanket at dinner. Guess I won't be going to yoga tomorrow – bummer, this will be my second week in a row missing yoga. I hope I don't fall off the yoga wagon. I also won't be shopping with my mother-in-law, which I had planned to do. 
Despite being sick, I did manage to eat dinner…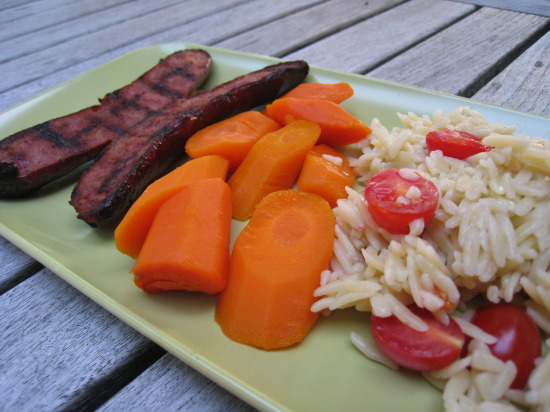 I had Polish sausage, steamed carrots, and orzo made with chicken broth and chopped grape tomatoes. I had one serving of each and ate it sooo slow. It was all I could do to get the fork to my mouth. 
Now, I'm watching a new episode of Psych – love that show! – and waiting for my Nyquil to kick in. All of a sudden, I'm burning up, what gives? I hate being sick. No time is a good time to be sick, but especially when I have a ton of work to do.
Well, hope your night is better than mine. Bye.