I am not a huge fan of eggs. I probably eat them twice a month, if that. I definitely don't dislike eggs – but rather I don't give them a second thought. Years ago, eggs were thought to be "bad" for your health – they were high in fat, cholesterol, etc. But in recent years, research has actually shown that eggs are, in fact, good for us when eaten in moderation. They may even help us lose weight.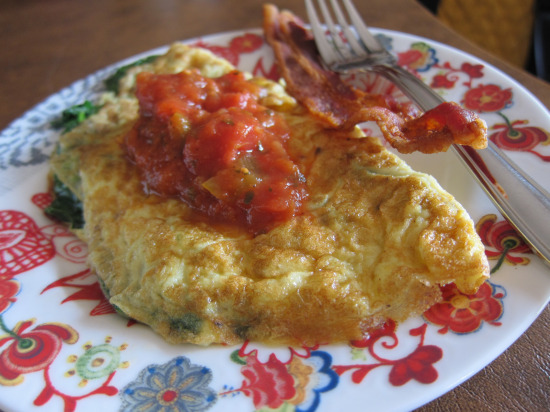 A recent study in the journal Nutrition Research showed that men who ate an egg-based breakfast consumed significantly fewer calories during the day compared to men who ate a carbohydrate-rich breakfast. Although both breakfasts had the same amount of calories, the protein-packed egg breakfast seemed to keep the men fuller throughout the day, resulting in 400 fewer calories consumed. And we all know that consuming fewer calories on a daily basis can lead to weight loss, which for most Americans, would be a good thing.
Still a little skeptical, I decided to test out the egg waters. After my fast 4-mile run, my husband made me an omelette consisting of:
2 egg whites and 1 egg
3/4 oz cheddar cheese
1 cup spinach
1/2 cup broccoli
2 tbs salsa
1 slice of bacon
The omelette was perfect and just what I needed after a hard run. In addition, I seemed to feel full all the way to lunch and beyond. In fact, I had absolutely no snacks today! I'm not sure if my snack-free day was the result of my egg breakfast, but I'm definitely willing to give eggs a second thought.