Afternoon all! Hope your day started off great. My run was fantastic this morning. I had so much energy (despite only getting 6 hours of sleep – blah!) so I kicked it up a notch with some speed intervals. It feels sooo good to run FAST because I'm used to running at a moderate pace. I'm really hoping to increase my pace some over the next few months and actually enter a Fall race – maybe a Turkey Trot – gobble, gobble!
Since I was running late again this morning, I grabbed a quick, but high fiber and protein cereal mix…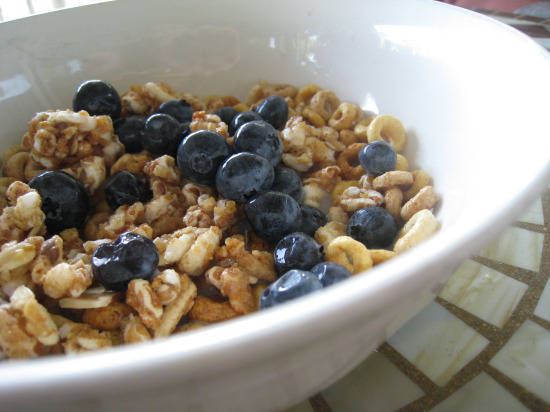 I mixed 3/4 cup of Cheerios Multi-grain with about 1/2 cup of Kashi Go Lean Crunch, plus about 1/2 cup blueberries for extra fiber and antioxidants.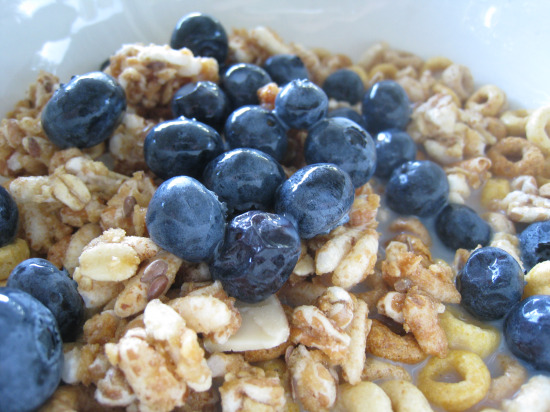 Breakfast kept me feeling satisfied for the entire morning. I wasn't even tempted by the new birthday treats (coffeecakes, donuts, etc.) in the staff lounge – ha ha! I was really tired around 11 AM though and had to pop open a can of diet coke for a quick wake-me-up drink.
For lunch, I enjoyed more of my homemade split pea soup that I froze almost one month ago today. Wow, time flies when you're eating good food. I only have one more bowl left out of this batch, so I guess it's time to make more!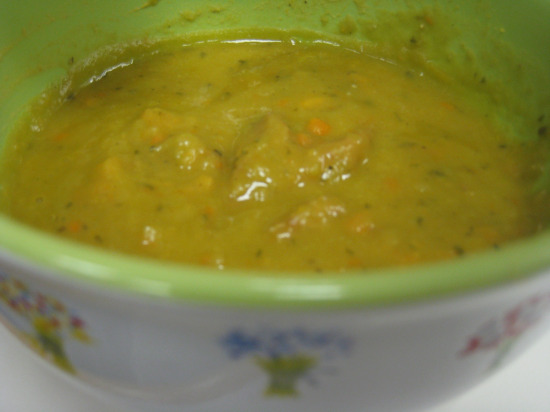 Today's soup was still as tasty as the day I made it. It's really filling too because of all of the fiber, so I'm hoping it carries me all the way to dinner.
OK, back to work for me. Have a great afternoon everyone and I'll chat with you tonight.