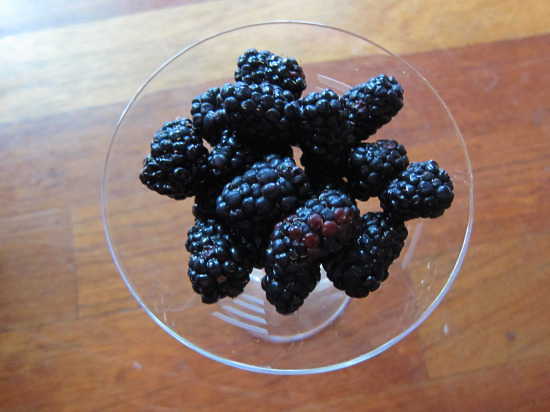 I have had this urge to purge all things unnecessary in my house. I seriously want to get rid of anything that does not have a purpose. As a result, Tuesday and Wednesday became huge cleaning days for me. I cleaned out drawers, cabinets, sorted through clothes, etc.  I contemplated giving away a good portion of our glassware that we received from our wedding. In the 9 years that we've been married, I think I've used our margarita glass once! I've kept them around all these years, just in case we had a margarita emergency, but that never happened. Now, all they do is take up space. So, I am donating them to a good home to someone at work.
As for the dozen Martini glasses –  I'm keeping them around to – what else? – hold my blackberries! Hmm, somehow everything looks and tastes better when it's served in a Martini glass – don't you think? Classy and healthy – just my style.
Now, on to more purposeful things….