Woo Hoo! I am finally done with our big meeting and it went fantastic! For 4-6 months, the meeting pretty much consumes my life and the lives of everyone in my office. Now, after 7 days, it is finally finished. There is definitely a huge sense of accomplishment seeing the whole meeting come together. 
On that note, let me give you a recap of my week…
4 days of running (about 15 miles)
7 days of walking about 2 miles a day
1 1/2 Starbucks consumed
10 minutes of television watched
4 glasses of sangria drunk
3 visits with my brother
3 Gourmet cupcakes eaten
6 receptions attended
When I look at this list, I realize that …I've had one hectic and exciting week. And, to top things off in true RWC style, I grabbed a night cap with my brother and a little dessert…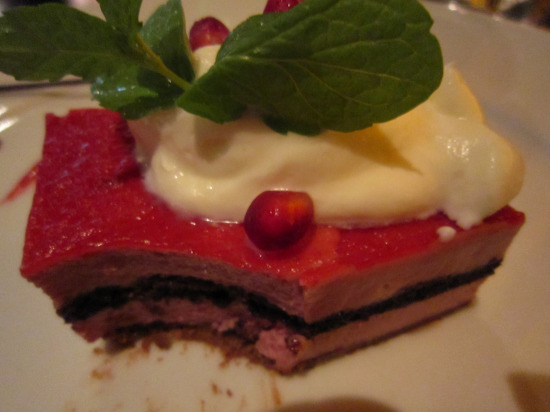 This is a pomegranate mousse layer with chocolate crunch cake. This dessert looked mighty fancy, but quite honestly, it was just ok.
But now, onto bigger and better things, such as trying to remember how I got all of my clothes to fit into one suitcase!!
I'm outta here for the night. See you tomorrow evening!