You all would have been so proud of me today! While driving into work, I was really craving a Starbucks mocha frap. I somehow managed to justify stopping just one more time this week, but at the very last second, I said "no", and went straight to the office! Plus, after dinner tonight, Scott and I played the who wants to go out to get a treat game. I offered to go at first, but then decided we didn't need to consume the calories or spend the money. Again, so proud!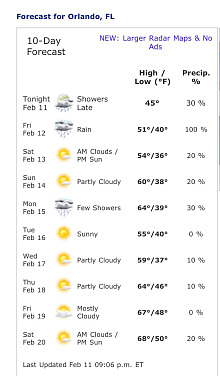 OK, can I be more obsessed with the weather these days. And it's not because of Chicago's recent snowapalooza or the fact that it is bitter cold. I have been obsessed about the weather for my vacation to Florida. I feel like I'm going onto The Weather Channel site every hour, just to see if Orlando's forecast has magically change. Will it rain or snow? Will it be sunny or cloudy? Will it be warm enough to swim or wear shorts? Only time will tell. And, as soon as it does change, I am going to be the first one to know because I've got the Weather Channel booked marked. Strangely enough, I feel like one of those retirees who can only talk about the weather or sales at the grocery store. I'm not alone though. I'm going to guess the folks in the mid-Atlantic states are pretty obsessed with their weather right now too.
Enough of the randomness. I'm off to bed. I have a big day of running, shopping, and studying on tap for tomorrow. Then Saturday, it's a surprise activity that's just for all the single ladies – hint, it involves purses!
Have a great night everyone.