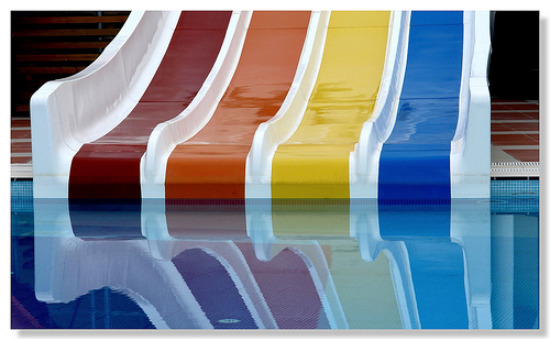 (Photo source)
Yesterday, I spent most of the day at Six Flags Great America in its water park. Since I'm technically on vacation, I tried to make this excursion into a relaxing day away from home.
When you really think about it, there's practically no way to relax at a water park when you have a 2 and 5 year old in tow. I spent most of my time chasing after my little one, walking up and own countless flights of stairs to the slides, and fighting back the waves. For five hours, I was nearly completely drenched from a combination of the wave pool/slides and the intermittent sun showers. Thank goodness it was so HOT, otherwise I would have been freezing!! Yet, somehow seeing the kids laughing and playing, and hearing them shout over and over "look at me mommy" made it all worth it.
After a very long day, I went to bed with a migraine then woke up with a nasty sunburn. Yes, I did apply 30 sunblock, but I omitted to apply enough on my back – not a good move. I also felt slightly hungover (sans alcohol) and as if I had run a 1/2 marathon. I was so sore I actually took tylenol and had to cut my run down to 4 miles – that was all I could do! Plus, it was at least 80 degrees when I went out for my run. And, as my former running coach (who happened to coach the national women's running team in the 70s) used to say, heat is a sprinter's best friend and a distance runner's worst enemy. He wasn't joking either!
Sunburn + Morning heat + Sore muscles = Lousy run.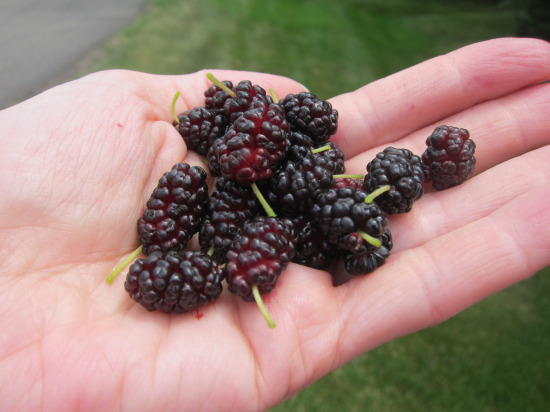 Even after getting ready for the day and taking the kids to daycare, I still felt "off" and even a little sick. I was hoping a little retail therapy at the Gap and Banana Republic would help, but I could only walk around for about an hour before I had to head back home – now that's telling you something! I ended up getting a quick burst of energy later in the afternoon so I was off for a 40 minute walk. And along the way, I picked more mulberries! I really have to find an easy recipe for raspberry/mulberry jam – any suggestions?? I have about 1 1/2 cups and I don't want them to go to waste!
For all of you who are counting – only 3 more vacation days left! I better get movin' if I want do maximize my time off!