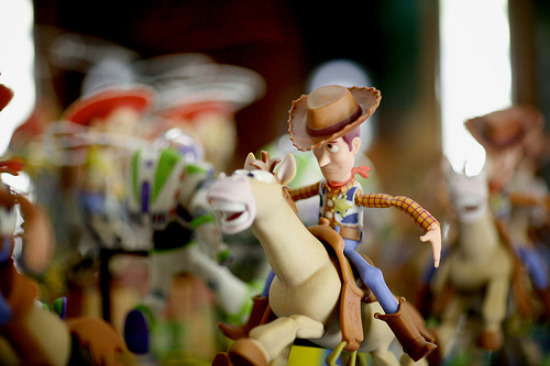 (Photo Source)
I will officially say that I will never be too old for Buzz and Woody. Scott and I took Miss M and Mr. C to see Toy Story 3 tonight – unbelievable! How does Pixar manage to make a third sequel even better than the first two? I laughed, I cried, and I cheered for all of the toys. It made me realize just how special my son's toys are to him. He really thinks they have feelings and care about being played with. It also makes me wonder about all of the toys I had as a child that just magically disappeared as I grew older.
I won't give away all of the details, but my favorite part was toward the end when all of the toys were holding hands, ready to face anything together. It was very heartwarming-a picture of true friendship, even if they are just toys. Also – the Toy Story movies always have great music with Randy Newman at the helm, and this movie was no exception. They even managed to score a Spanish rendition of You've Got a Friend in Me, by the Gipsy Kings – one of my favorite groups!
I really don't know how Pixar could top this movie and I somewhat hope they don't even try. If you are even remotely a Disney or Pixar fan, I give this movie a thumbs up and recommended that you go see it ASAP. Remember to stay through 1/2 the credits – you'll be treated to a very funny scene – Viva La Toy Story!